Subscribe for a free infosession and find out how to become a Great Place to Work®!
Get Insights
At Great Place To Work® we help organizations measure their organizational culture and their employees' trust.
Employee survey
Enhance your company culture by understanding and elevating employee experience
Your people are your competitive advantage - but only when they're having a great employee experience. Through Great Place To Work, you can measure and understand how employees are actually feeling within the organization leading to enhancements in their overall employee experience.
How? The Trust Model!
We lead the industry with the most rigorous, data-based model for quantifying employee experience: The Great Place To Work Trust Model. Since 1992, we have surveyed more than 100 million employees around the world and used those deep insights to define what makes a great workplace: trust.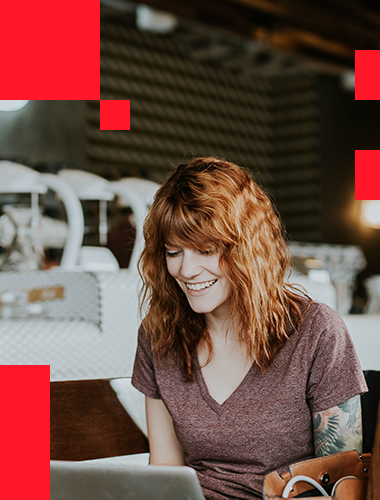 Our Trust Index survey constitutes a valuable tool for gaining profound insights into the dynamics of the work environment. It provides a clear perspective on how employees perceive both their individual tasks and the broader organizational experience. The Trust Index survey encompasses questions and statements that pertain to various aspects influencing the workplace, such as working conditions, compensation, communication, leadership, growth opportunities, workload, and the physical work environment.
Our survey yields insights into
Strengths: which aspects are performing well within the organisation?
Areas for improvement: where are the opportunities for enhancement?
Overlooked aspects: are there elements that may have gone unnoticed?
The results of the survey serve as a guideline for taking targeted steps to promote positive developments. The aim is to enhance work environment and job satisfaction of employees, which in turn contributes to the overall success of the organization. It will help to boost employee engagement and retention, fuel innovation and inspire company pride.
Employee survey software
Employee survey platform
Easily administer employee engagement surveys and see your company's results, analysis and actionable insights using our advanced Employee Survey Platform Emprising™, pre-set with our research-driven Trust Index™ survey. It's the world's best employee experience platform, proven to help you quantify your company culture, increase employee engagement and do the right thing for your business and people at the right time. You will get access to the system which allows you to run the Trust Index yourself and follow-up on the results. Analyze employee data by department, job role, managerial level, and more to uncover patterns and disparities in employee experience. Once certified, you have immediate access to the Employer Branding Toolkit with your certificate and logos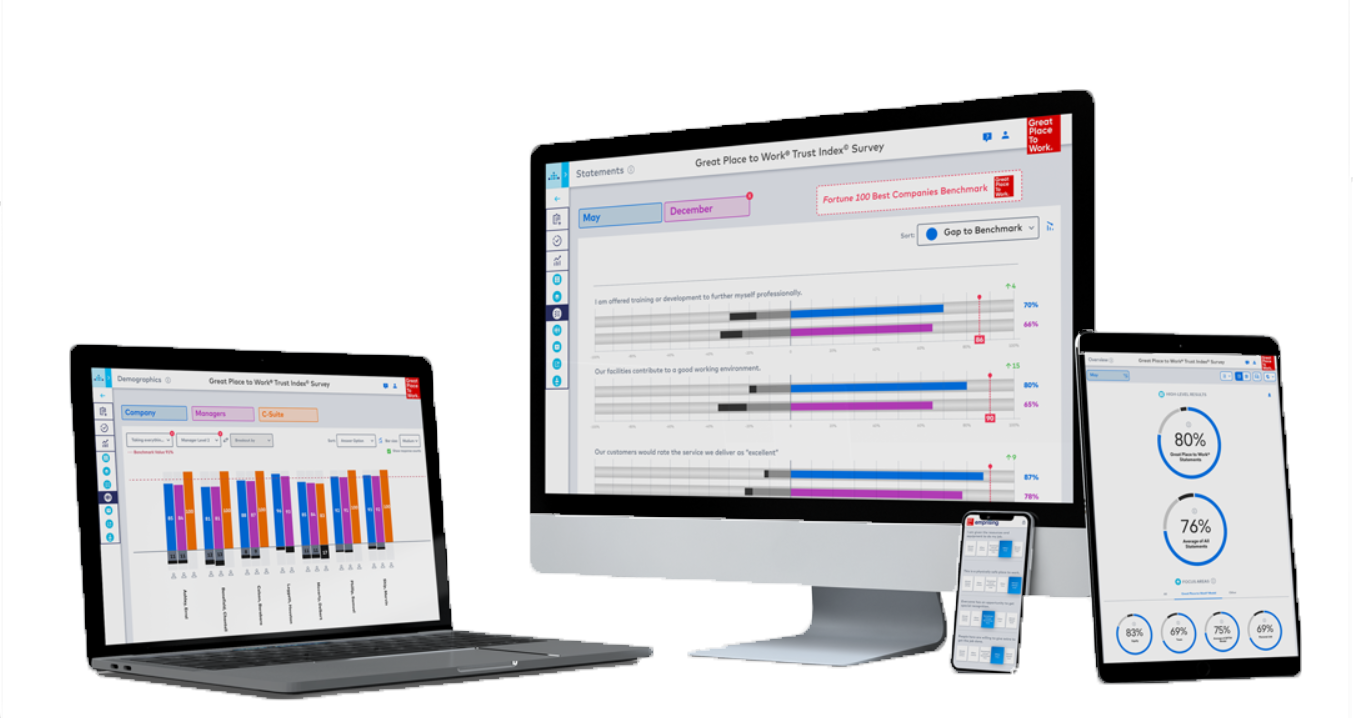 Make strategic business decisions with Emprising
Hear how Great Place to Work's employee survey platform yields the data and insights you need to make more strategic business decisions, improve employee experience, and build a great place to work for all. Take the guesswork out of people program investments with data and actionable insights.
Quickly and easily create and launch your employee survey
Start with our proven Trust Index statements.
Add your own custom statements and demographics.
Create and deploy an employee satisfaction survey within minutes on demand.
Conduct quick poll or pulse surveys to continuously monitor employee experience over time.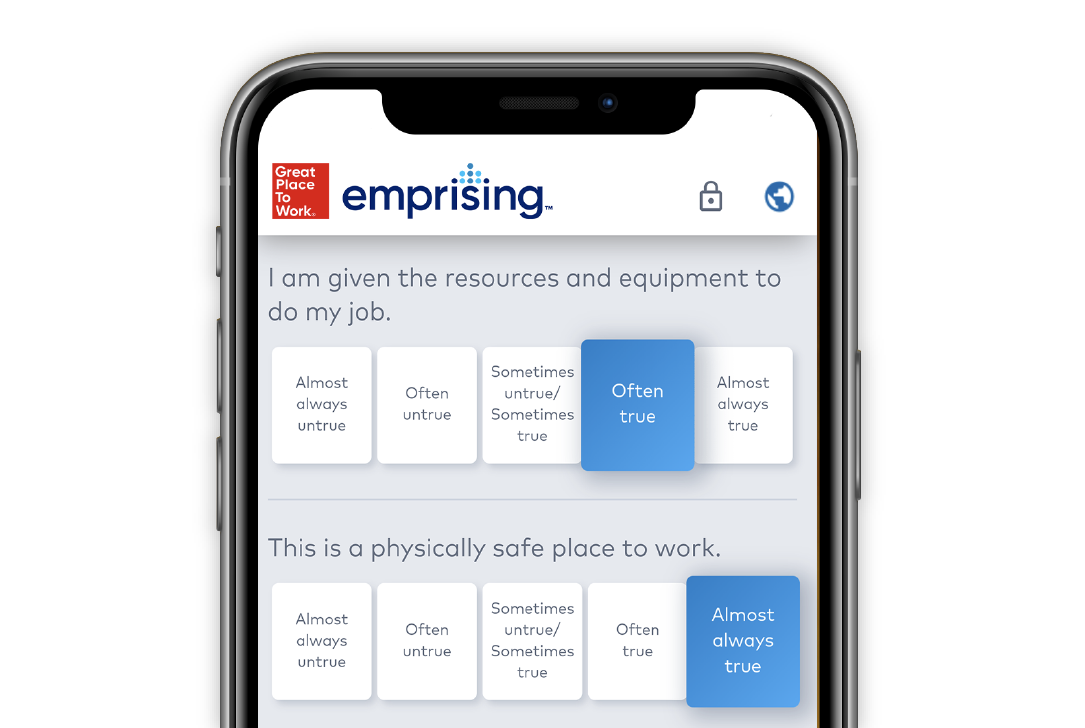 Measure more of what matters to you
It's easy to create a survey as unique as your business.
Analyse employee data by department, job role, managerial level, and more to uncover patterns and disparities in employee experience.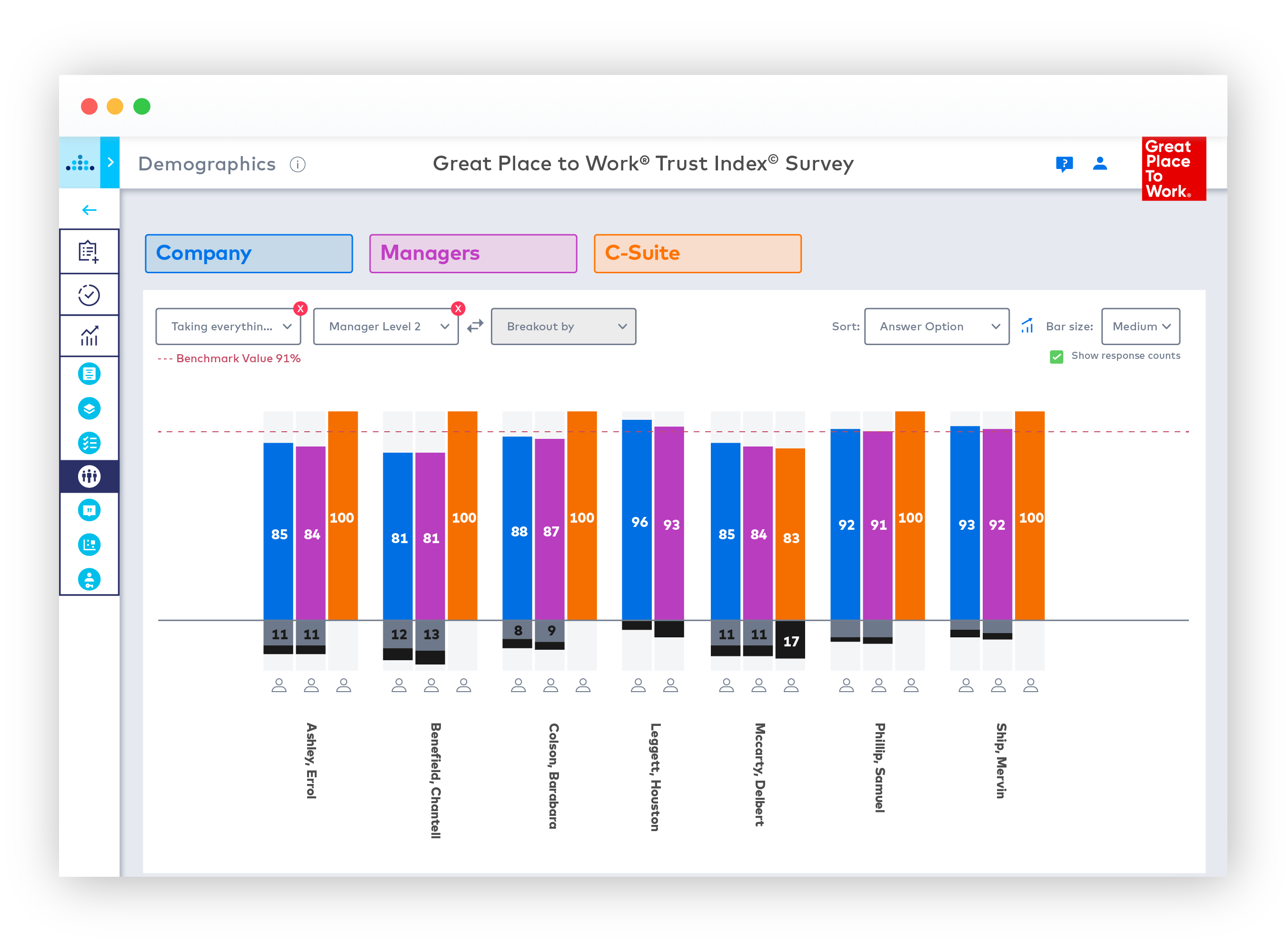 Unlock insights you need to take action
Slice and dice results with heatmaps, demographics and statement breakouts, employee comment analysis and more.
Historical data and benchmarking reveal how your employee experience changes over time.
Download customised data spreadsheets and employee comments.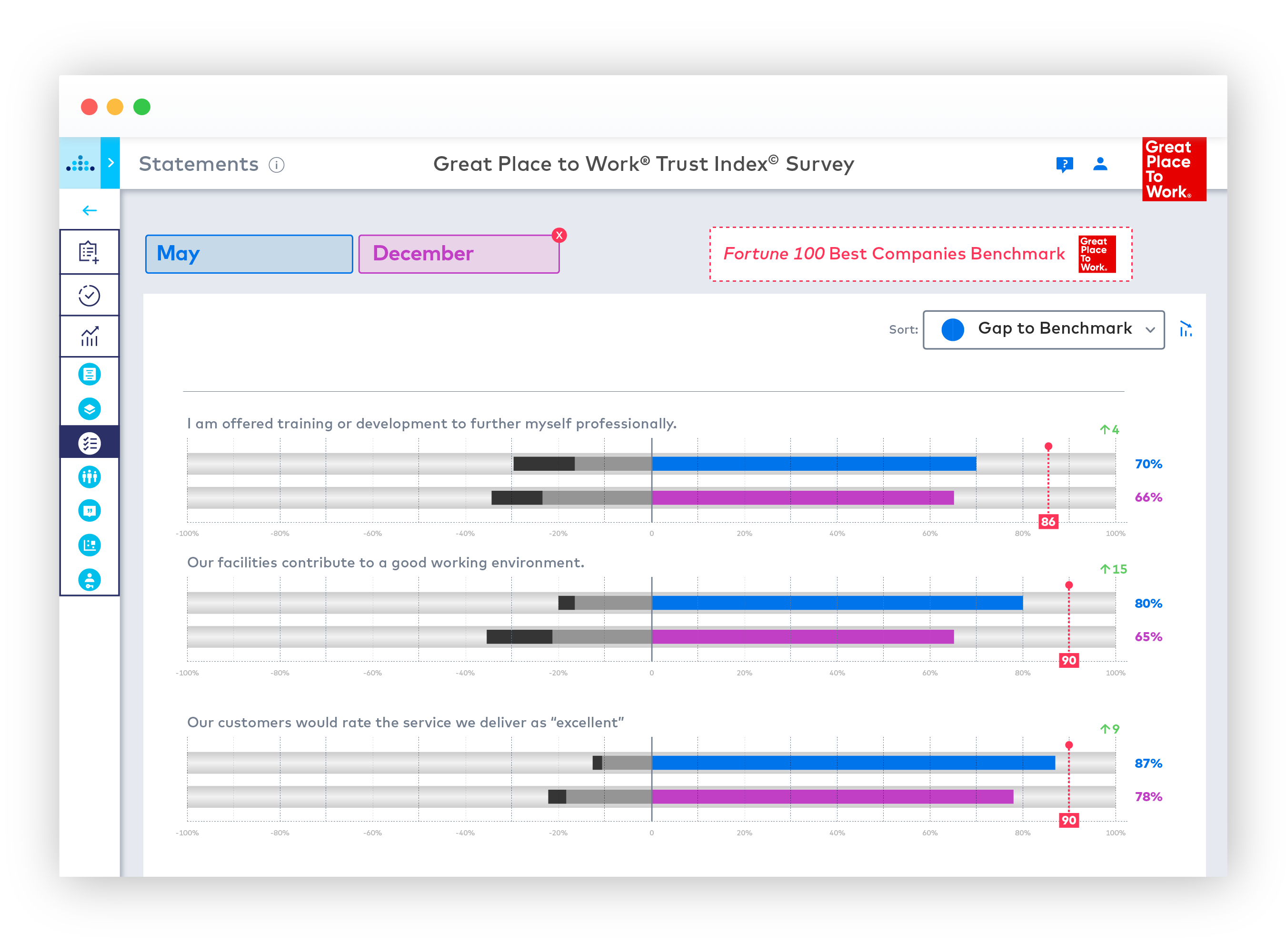 See how you stack up against the Best
Get the most accurate benchmark data in the industry.
Compare your culture to our Best WorkplacesTM in all relevant countries.
Know your improvement areas to get on our lists.
Want to know how our data platform works and what insights you can unlock from it?