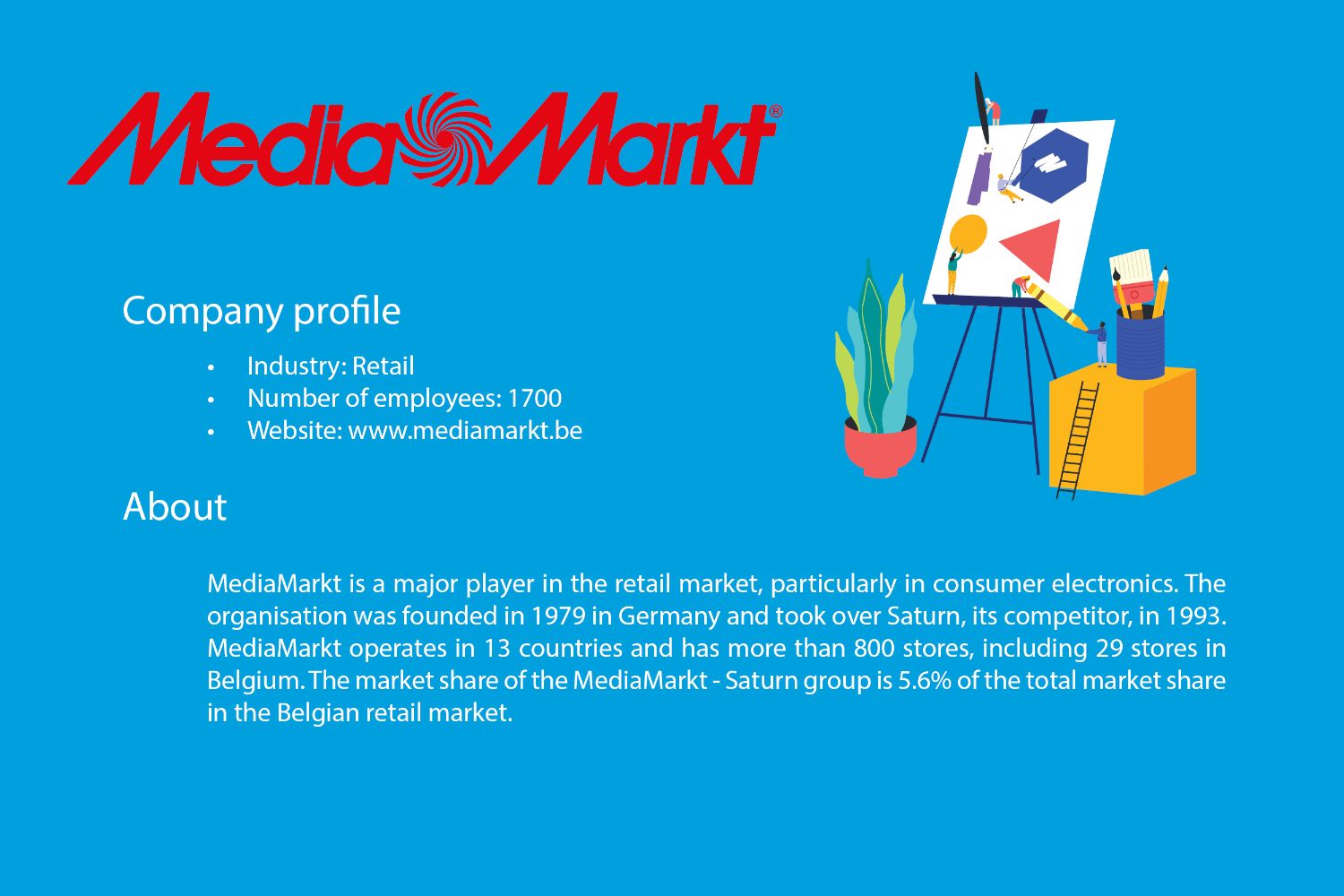 Over the past 40 years, MediaMarkt has become a European market leader in electronics retail, founded on a solid cash & carry concept based on 5 pillars: lowest price, largest range, innovative products, brands and service. The rise of e-commerce, social media, digitization and changing customer expectations put the first 4 pillars under heavy pressure. In addition, the customer gradually seized power through the abundance of inspiration and choices in his customer journey.
The challenge to become customer-driven
Eight years ago, there was a lot of room for improvement in terms of customer experience. MediaMarkt needed to adapt to the changing customer behaviour by transforming its culture and organisation from product-driven to customer-driven, by striving for innovative services and solutions, and by increasing efficiency through digitization.
For this to happen, employees and customers had to be at the centre of the organisation. This changeover started in mid-2011. The stores were asked to list a number of projects that MediaMarkt, as an organisation, needed to work on. Through a democratic vote, areas such as learning & development, employer branding, and satisfaction were elected – and MediaMarkt decided to participate in the Great Place to Work® study.
This decision marked an important milestone, because it led to substantial change in the company's identity, which MediaMarkt calls 'From a Great Place to Work® to a Great Place to Shop'. "There are no delighted customers without motivated employees," says Joachim Vanobbergen, HR Business Partner at MediaMarkt Belgium. "Satisfied and motivated employees lead to customer satisfaction, which in turn makes the employee even more satisfied and motivated. We are also convinced that more customer satisfaction means more sales, more margin, and a better name in the market for MediaMarkt."
Focus on learning culture and values
In the first phase, MediaMarkt started to focus on everything that had to do with learning culture. Specifically, several training initiatives, such as a new learning center, were set in motion to show the employees that MediaMarkt was investing in them. In addition, MediaMarkt mapped out its Employee Value Proposition and its values. Employees were asked which three keywords they thought of when they heared the name MediaMarkt. These are still the values today namely Autonomy, Responsibility and Fun. Autonomy represents being able to work independently, Responsibility stands for daring to take the initiative and to communicate this to customers. Finally, Fun is comparable to the dimension of Camaraderie in the Great Place to Work® research.
Inspiration and experience as critical aspects
Secondly, MediaMarkt had to make the 'from Great Place to Work® to a Great Place to Shop'-mentality known to its employees. Every initiative taken by HR was tested against that principle. As a result, the internal customer, the employee, came first. Strong internal communication was very important.
"MediaMarkt used to be a typical 'cash and carry' company. Employees just came to work and that was it. Critical aspects to make this changeover a success were inspiration and experience. Chief Customers Officers - CCO - (the new adapted jobtitle for Store managers) had to bring a story to their employees." Vanobbergen explains. This communication was done top down. First, MediaMarkt organised sessions for CCO. They in turn made their own action plan based on the results of Great Place to Work®. Their goal was to inspire employees and customers and let this live on in the stores.
"When the results of Great Place to Work® are known, they are put together in a tool. From there, reports are made per store and over the years. Best practices are noted for stores that achieve 70% or more. This can be interesting for other stores. Shops that achieve less than 60% are followed up more often. In the business plan of each store, Great Place to Work® has been translated into a KPI." Vanobbergen says. "In addition to the Great Place to Work® survey, we also started with Great Place to Shop surveys for customers in local shops. From this, we could conclude that stores with a high score on Great Place to Work® also score well on the Great Place to Shop questionnaire in 70% of the cases."
Interested in working @ MediaMarkt?
As stated before, the culture of MediaMarkt is based on autonomy, fun and responsibility. They mainly focus on the recruitment of central functions at the head office. For the stores, MediaMarkt is looking for sales profiles, people & customer managers and chief customer officers. People can contact MediaMarkt by linking via LinkedIn. Besides that, you can visit the jobsite or visit a store.
Is your organisation a Great Place to Work®?
We recognise good employers all over the world with the labels Great Place to Work® Certified™ and Best Workplaces™. The strict criteria and the combined perspectives of both the employees and the organisation make this recognition unique.
---