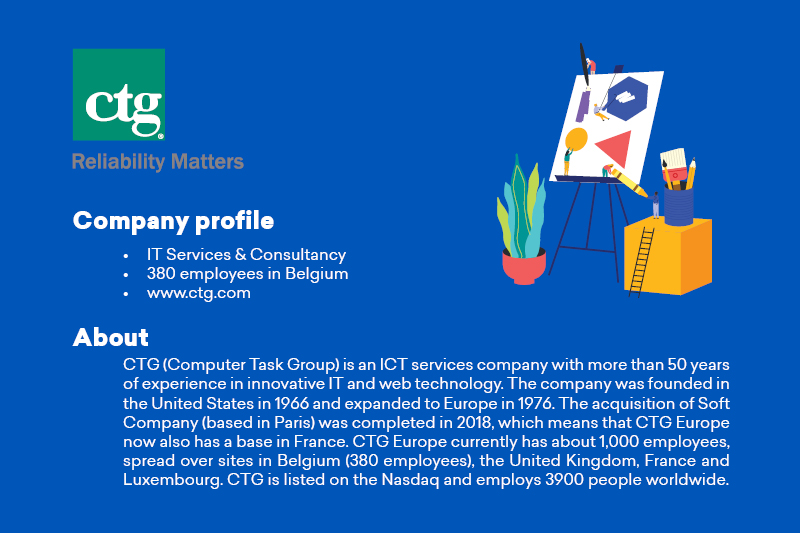 CTG's management is convinced that their own people ensure the success of the business. With its vision and values, the company encourages its employees to perform to their best. All of CTG's actions stem from the conviction that 'Happy People Produce Quality'.
Happy people produce quality
CTG Belgium has been a loyal participant of the Great Place to Work® study since the beginning in 2003 – and every year the company's results have been gradually increasing. "Every year, we take actions based on the results – and it pays off!" says Ferdi Claes, Managing Director HR Europe and HR Director Belgium.
In the context of the Great Place to Work® project, CTG has set up a specific work group, or Center of Excellence as they call it. Each year, the employees in this group think along with each other about areas for improvement, with the aim of scoring better the following year.
Communication is the key to better results
CTG's strategy for continuous improvement is to focus on the lowest scores, so that the company can start carrying out targeted actions in these specific areas. Since the start of their Great Place to Work® journey, the biggest challenge has been in the domain of 'Fairness'. More specifically, there was room for improvement in the sub-domains of 'pay for performance' and 'the feeling of receiving a fair share of the profits made by the organisation'.
"These elements have triggered us to explain clearly to all employees how it works at CTG," Claes explains. "At first, we thought that the communication was on point, but later we came to the conclusion that this was not the case. The management team sometimes assumed that certain things were simply obvious, while our consultants on the road found that these things were not necessarily clear. It's important that everyone in the organisation is aware of the fact that remuneration is not just about net wages. There is much more to it than that, especially in an IT company."
One of the specific actions that CTG has carried out is informing the employees via presentations. This enables them to explain things in detail, such as the fact that an employer's costs are 3 times an employee's gross wage. Furthermore, CTG has also explained the remuneration process. "Previously, employees indicated that they sometimes felt this was subjective and depended on the particular manager someone had. But that is not how it works here," Claes says.
Besides communication, CTG has also adapted the process concerning net lump sum payments. For a long time, this advantage did not apply to everyone within the company. CTG noticed dissatisfaction and frustration among its people, and so the company took the step of making this advantage available to every CTG employee. As a result of these actions, the scores on 'Fairness' have improved significantly.
In order to meet demand, CTG has adapted and optimized its internal communication channels for each target audience. Claes states: "We are currently working with Slack and Trello, but we have to avoid the pitfall of focusing on only one or two channels. We have to make sure that we share information through different channels, because everyone makes their own choice. Today, we see that Slack and Trello are mainly used by the younger generation, while older employees may opt for other channels." Two Conversation Coordinators (or CoCos) have been appointed to monitor the communication.
CTG's final goal was to reduce the turnover rate – and to do so, CTG needed to know why certain employees start looking for a new employer. Therefore, exit interviews were implemented to engage people who are leaving the organisation in conversation. These talks showed that, in 15% of the cases, the reason for leaving was financial. However, after implementing the improvements mentioned above, they were able to improve the rate of turnover by more than 10%. "Those results prove the power of conversation."
Great Place to Work® Journey
Ferdi Claes was the initiator at CTG Belgium to participate in the Great Place to Work® study. "In the beginning, it was not easy to convince the rest of the management to participate and set up a working group. But gradually, this scepticism disappeared, simply because the positive results followed," Claes explains. "It's an instrument that keeps us on the right track. Our people are very important to us – and with Great Place to Work® we can monitor their experiences and engagement." Meanwhile, all of CTG's European entities participate in the Great Place to Work® study each year, and Ferdi Claes has convinced CTG US to step in as well.
Interested in getting started @ CTG?
CTG is known for its people-oriented culture and sustainable career development. Above all, CTG offers its employees flexibility and autonomy. Thanks to challenging projects, and through personal competence development, employees are able to drive their own careers forward. In return, the company expects the employees to be flexible in order to meet evolving market developments and their customers' requirements. CTG hires candidates that are looking for added value, people who prefer a complete and supportive framework, rather than a fast career.
---