The 7th edition of the RISING STAR MONITOR by Vlerick Business School reveals that finding and recruiting employees is considered the biggest challenge for young scale-ups to grow.
The research report provides a snapshot of the trends and challenges involved in young, high-potential ventures in Belgium. The insights are based on data gathered from 144 young, high-potential Belgian ventures with 175 founders, an average age of 3 years and in a wide cross-section of industries.
That finding and retaining employees is the #1 challenge for ventures wanting to grow is not unique to Belgium; in the 2019 European Scale-Up report in collaboration with Vlerick Business School, human resources was also raised as the #1 challenge for scale-ups across Europe. So, the war for talent for scale-ups continues. In fact, some would argue it has even tightened with employees rethinking how, why, and where they want to work because of Covid19.
An overview of the biggest challenges in HR practices for Belgian ventures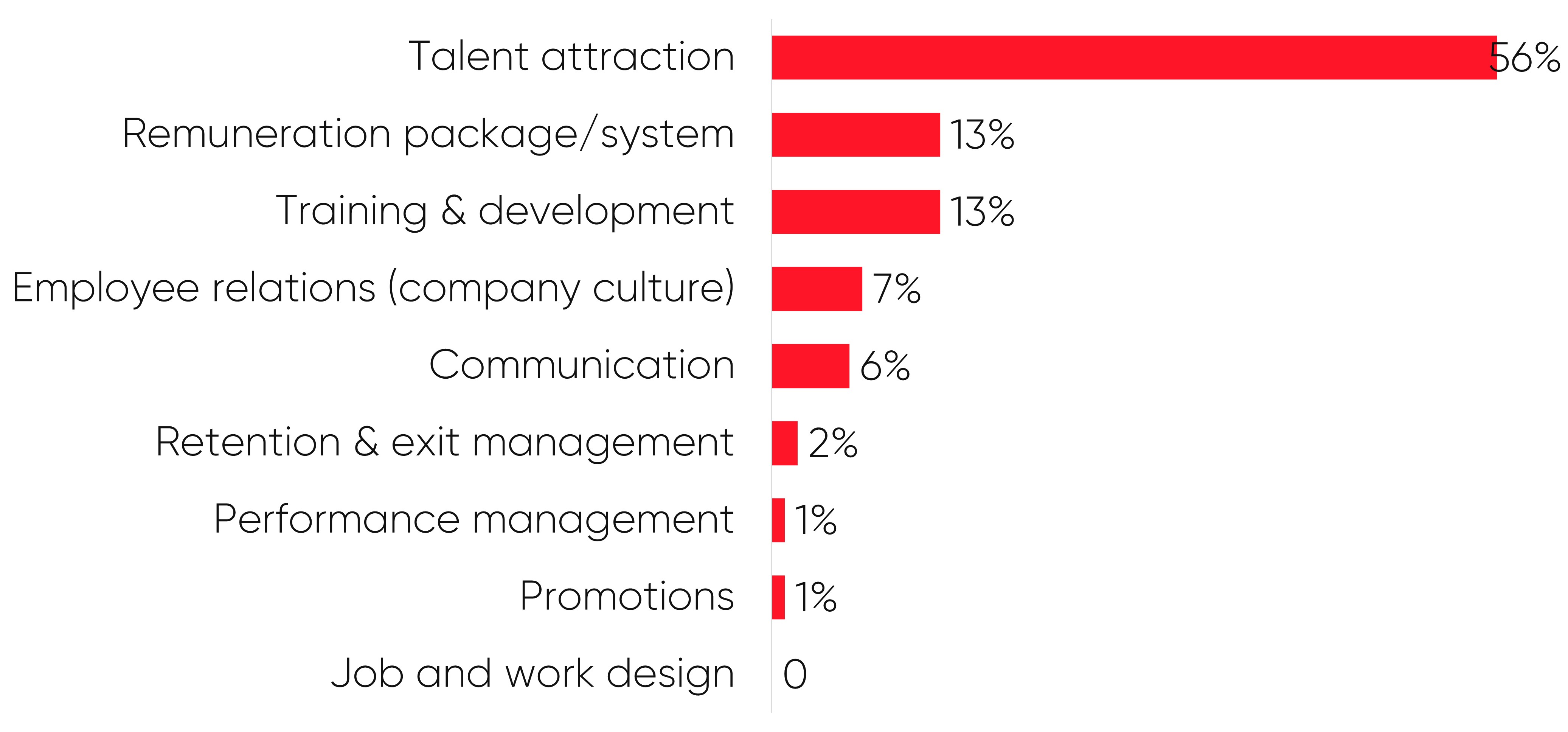 Since a higher proportion of young high-potential ventures see finding and recruiting new talents as the most challenging HR practice for their companies, let's have a look at what employees want on the one hand and what organisations can offer them.
Culture is the #1 attribute sought after by potential employees:
Potential employees clearly value company culture most. A close 2nd is financial rewards, followed by comfort (flexibility to choose when and where to work) and resource adequacy (managerial support with feedback opportunities, informal and formal learning and access to technology at work). Young ventures are recognised by prospective employees for their culture and vision. But a potential mismatch can occur! Young ventures actually offer what employees are looking for (culture, comfort, resources), but lack the skills to effectively brand these employer attributes. This points to a clear need for effective employer branding to create more awareness of the attributes offered since this could influence the shortage of profiles in the market.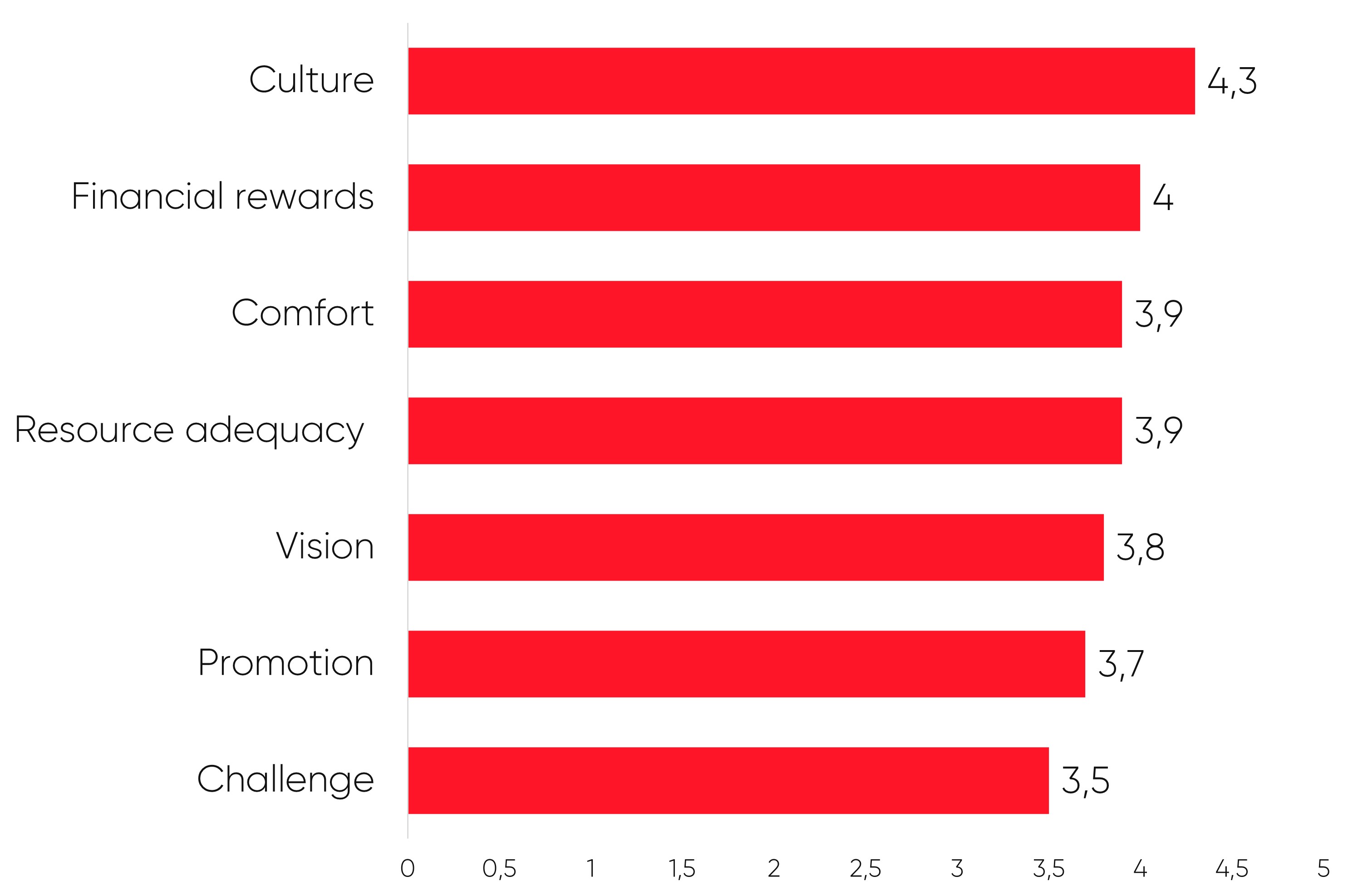 Young-high potential Belgian ventures offer flexible working arrangements to attract talent
Young-high potential Belgian ventures score themselves the highest in the comfort they offer, their culture and resource adequacy. These top 3 organisational attributes are followed by having a vision, providing legitimacy (the founder's reputation, together with the external recognition of the organisation), offering attractive financial rewards, challenging tasks, job security and promotions.
Our key take-aways from the report:
Employees are the #1 challenge for future growth: 40% of young high-potential Belgian ventures considers employees as their biggest challenge to accelerating their business. 56% of young ventures see new talent recruitment as their biggest HR challenge. In terms of talent attraction, young scale-ups experience shortages of developers/programmers and commercial profiles. Web developers, designers and programmers is the job profile most needed (by 50% of the companies), followed by sales (36%), marketing (30%) and business development (28%).
There seems to be a relatively good match between what young ventures offer and how potential employees think of them as employers in terms of culture and vision. Room for improvement? Organisations should do more employer branding in terms of the flexibility, financial rewards, and resources they offer for learning and technology, areas in which they are being underestimated by prospective employees as opposed to perhaps their larger competitors.
Who wants to work for young ventures? The study states that young ventures tend to hire younger profiles. In the case of our respondents, venture 'joiners" are, on average, 35 years old. People whose average age is 27 years old prefer to work working for established bigger firms. This may provide an interesting opportunity as senior profiles are needed in young ventures; the age group between 35 and 45 might be interesting to explore for young ventures as they should have the experience to increase the seniority in these firms.
Download the report here: https://www.vlerick.com/en/insights/rising-star-monitor-2022-company-culture-is-the-number-1-criterion-for-choosing-an-employer/
This report was prepared by Veroniek Collewaert, Professor in Entrepreneurship and Director of the Scale-up Centre at Vlerick Business School, Sophie Manigart, Professor in Entrepreneurial Finance and Faculty Dean at Vlerick Business School, and Andrea Albuja, doctoral researcher at KU Leuven and Vlerick Business School.
Sources:
European Scale-Up report (2019) | Startups.be and Scaleups.eu.
Rising Star Monitor (2022), Research Report by Vlerick Business School & Deloitte
Are you inspired to become a Great Place to Work?
Join one of our information sessions and start your journey HERE!
---