We interviewed our special award winner for Communication in Corona-times, Protime! Jonas Van Herck – People and Culture Manager - explains how Protime communicated with its employees this past year.
When communicating with its employees, Protime had some clear principles in mind. 'We communicated a lot, in a transparent and in an unambiguous way. There were no different stories, there was one message and we wanted to get that out. It was up to us to do that in different ways' Jonas explains. 'Be clear in your communication, one key transmitter. Be transparent in everything you do and everything you know. Be vulnerable. Take the personal approach. That was pretty much our strategy from which we have learned a lot in the meantime.'
At Protime it was clear, in times of crisis it is important that someone takes the lead regarding communication. They decided this would be with HR and that they would determine what would be communicated. They did this in a very transparent way. 'Something that was key in our approach. We share everything we know, and we also share everything we don't know. We have always had the idea: the more knowledge we can share, the more people can think about it, the more autonomy we can give and the more innovation power we will have as a result.'
Apart from this, they use a multichannel approach: one message but different channels to spread this message. To make sure all employees were reached Protime organised a FAQ page, an HR newsflash, webcasts, podcasts, leaflets, team lead calls,… At Protime, they realised 'You cannot tie up the loose ends of weak or unclear communication by being the office or discussing it in the corridors anymore. You do not have that luxury now, so you have to make sure that those loose ends are communicated transparently, as much as possible.'
By having invested in a strong culture and clear values in the past, Protime was able to build on that strong foundation. 'I think we have benefited very much from the strength of our values and of our culture, and I am very happy that we have always invested in it.'
Finally, Jonas explains that at Protime they will grow even further thanks to the learnings of the previous year. A lot of the new communication initiatives will stick and make it easier for Protime to communicate even when people can come to the offices. 'I am glad that this acceleration has happened and when I look back, I am proud at what we have done.'
Read the full interview here!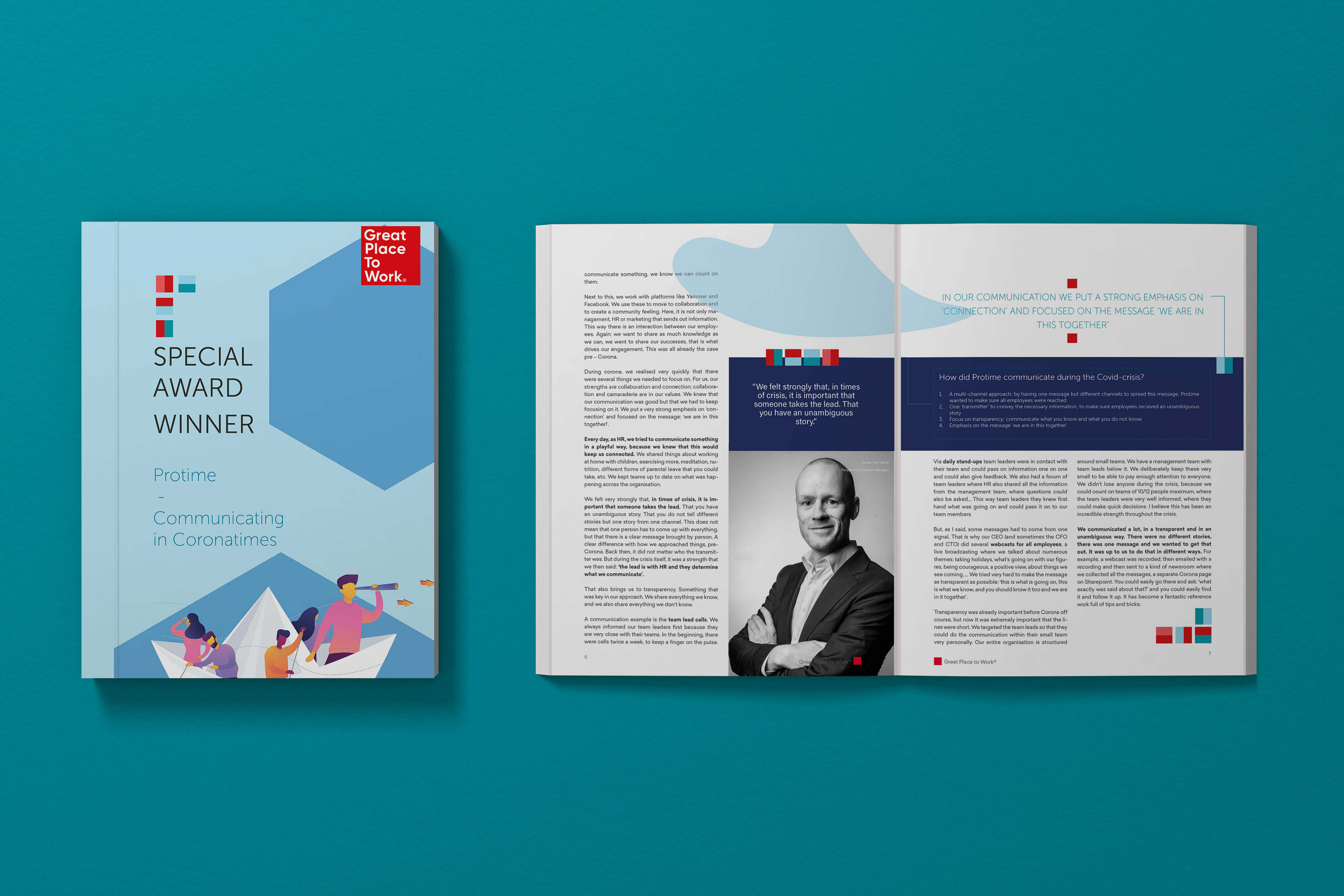 Do you also want to follow in the footsteps of Protime?! Be sure to find out more about our way of working and the ways we can support you in your journey towards an even better workplace!
---