The Best Workplaces™ label distinguishes the very best employers from the certified organisations. In Belgium, we determine three lists: Large, Medium and Small, depending on the organisation's size. These companies have the highest levels of trust and the most inclusive cultures in Belgium. They have seized the opportunity to become better—to courageously connect in new ways, deepen their commitment to their communities, and get creative in how they care for their people.
For this year's Best Workplaces event, we interviewed the top 3 companies recognised on our Best Workplaces™ 2022 lists. In this blog series, "Bringing out The Best", we will share these interviews so you get to know these companies better. This week, it's Bank Van Breda's turn! This company is the winner of our 'Large category' with 98% of their employees saying that 'this is a great place to work'. Bank Van Breda is a personal advisory bank for entrepreneurs and liberal professions where customers and bankers build a real relationship of trust. Dirk Wouters – CEO – expressed his pride and gratitude towards his 520 colleagues "who take their responsibility and commit themselves daily to give their best for the team and the customer." Find out what we can learn from these great employers! Find out what we can learn from these great employers!
Bringing out The Best: An interview with Bank Van Breda CEO Dirk Wouters
According to you, what does a Great Place to Work® mean?
When I look at the Trust Index™-data of our employees, it's clear to me: the enormous camaraderie that ensures you can count on everyone to contribute to the same goal! These are the top answers in the survey and represent and differentiate what Bank Van Breda is.
Do you find it essential to be a Great Place to Work?
It's all about people. If you look at how much time of your life you spend at work, then doing this in a Great Place to Work is essential for everyone. At the same time, it's the foundation of everything because there is a critical interaction. Without a driven and enthusiastic workforce, you cannot generate satisfied clients. And without satisfied clients, the future of every company is in danger. In this way, the camaraderie that ensures everyone collaborates towards the same goal makes us a better bank. But it also works the other way around: you cannot have motivated employees without the appreciation of your clients. We all get an enormous boost from the recognition we receive from our clients for what we mean to them. I am convinced that our clients are grateful for our specialisation – our focus on entrepreneurs and liberal professions – and that this generates a return on investment in terms of motivation.
It's a continuous cycle of having more motivated employees, which our clients notice and appreciate. This results in more satisfied clients, and the process continues and goes faster. That's why a Great Place to Work is the foundation of a healthy and sustainable business.
How do you become a Great Place to Work?
It's about building a workplace together. It's all about our 520 employees who take their responsibility – day after day – to work on their motivation, employability, and team. A few years ago, we let go of our classic performance reviews and replaced them with continuous dialogues between employees and their employers. Employees are in the lead – they are the architect of their careers – and we are there to support them along the way. When you have an open conversation with your employees about 'what can you do, how can we help you, take responsibility to work in a motivating context, and contribute to the team spirit?', people can develop themselves. Consequently, motivation, drive and enthusiasm will grow naturally.
Furthermore, it's about communication and giving feedback. At Bank Van Breda, we partner with the Great Place to Work Institute every two years. We've been participating for a long time now. We've always analysed the results, discussed them with all our employees, and identified areas for improvement together in an open dialogue. We permanently look for what we can do better. That way, we can constructively build a Great Place to Work.
So, it is the combination of the individual responsibility of every employee – that is the starting point – with a policy of transparently looking for areas for improvement and formulating an action plan in an open dialogue with employees. And we're happy that we're continuously making progress compared to the previous measurement – as you can see in the evolution of our Trust index scores (see graph). When we started, we wanted to learn. Systematically, the survey helped us to make real progress. Looking at the chart makes me incredibly proud!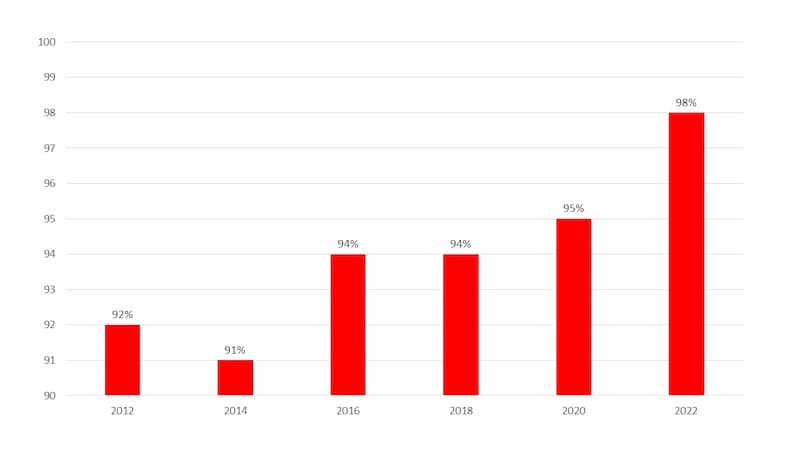 What is one thing that you learned from last year during the COVID-19 pandemic?
As things were more complex (e.g., teleworking and social connections) in the past two years, the strongest companies became even stronger! What I've advocated was: that when the motivation of employees is good and when there is team spirit, you can give your employees a lot of autonomy because they will take their responsibility and deliver top performance. It surprised me how good this has worked! It all starts with motivation and team spirit. If these two elements are in place, then you can let go. You can give autonomy, and people will take their responsibilities, and the results will be extraordinary!
As a Great Place to Work, you are part of an ecosystem of like-minded organisations aiming to improve the employee experience—addressing your 'co-competitors', for what can they always call you?
We can inspire other organisations regarding 'how to support employees to take responsibility to invest in their career, motivation, team and development?'. How can you as a company facilitate and make time for this? This is something with which I would like to inspire others or exchange ideas.
Are you inspired to become a Best Workplace? Join one of our info sessions to start your journey HERE! or gain unique insights into the best practices of Belgium's Best Workplaces 2022 by downloading HERE our full report.
---