Belgian HR managers are increasingly becoming strategic business partners in companies. Furthermore, businesses are recruiting fewer external people for this position. When assessing staff performance, companies still predominantly prefer the traditional interview. Remuneration is increasingly based on individual performance. Coaching and mentoring are on the way up as methods for furthering the growth and development of staff. And finally, recruitment through job advertisements has shown a downward trend.
These are the most significant conclusions of a survey among 142 Belgian senior HR managers. Together they represent 678,494 employees from both the public and private sectors. The study was conducted by the Centre for Excellence in Strategic Talent Management at Vlerick Business School and it measures the most recent developments and trends in HR policy. The study is part of a larger international survey in 40 countries led by the Cranfield Network on International Human Resource Management (Cranet). Vlerick Business School is the survey partner for Belgium. The previous Belgian survey dates from 2008.
HR involved in business strategy more often
From the survey, it appears that the role of the HR manager is shifting towards being less restricted to purely operational HR tasks. Although searching for talent and managing human capital remain top priorities, HR managers are increasingly becoming a strategic business partner in the company.
Dirk Buyens, Professor of Human Resource Management at Vlerick Business School: "In practice it is apparent that HR is appropriating the role of full business partner."
In 80.1% of the companies, the HR manager has a seat on the board of directors.
44% of the companies indicate that HR is involved in the definition, development and implementation of the business strategy, from the outset.
The HR policy is increasingly becoming more aligned to the business strategy. And 78.9% of the companies also have an HR strategy on paper (compared to 62% in 2008).
HR is playing a more central role in change processes, such as for example mergers and takeovers. HR was not involved in any step of these types of processes in only 4% of the companies.
Line managers are working more closely with the HR Department. HR managers fulfil the role of 'specialist advisor' in that case, providing support to line managers concerning people management issues.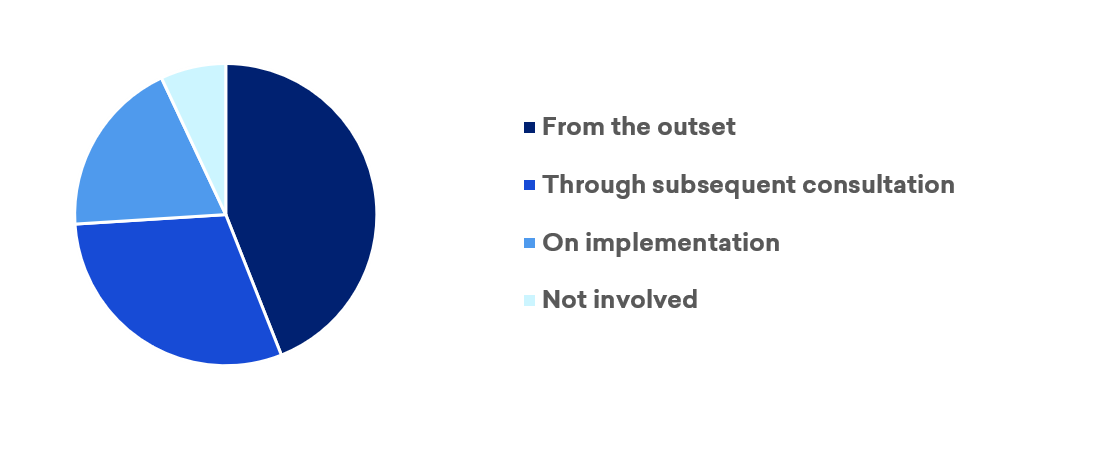 Growing preference for the internal recruitment of HR managers
Candidates for the job of senior HR manager are increasingly found inside the company. Internal mobility and business expertise are growing in importance. The preference for attracting external insight is losing ground. This puts both recruiting methods on par with each other.
While in 2008 only 28% of the HR managers were recruited from the company's internal HR department, that number rose to 39% in 2016.
And vice versa, in 2008, 45% of HR managers came from outside the company; that number dropped to 39% in 2016.
Traditional assessment interviews are still preferred
In contrast to the global trend towards more frequent and more informal feedback interviews between management and staff members, Belgian HR managers stick to formal evaluation forms. We even see a growing trend in this direction.
While in 2003 77.7% of the business managers were evaluated using a formal method of evaluation, that number rose to 83.3% in 2008 and even to 92.4% in 2016.
For blue and white collar workers, we see an equivalent growth from 77.7% to 82.9% up to 93.1%.
Koen Dewettinck, Professor of Human Resource Management at Vlerick Business School, explains: "The conclusion that more traditional evaluation processes have increased does not mean that people in Belgium do not consider new things and experiment with new approaches to performance management. We do, however, see that people have cold feet when it comes to completely making the switch in this regard."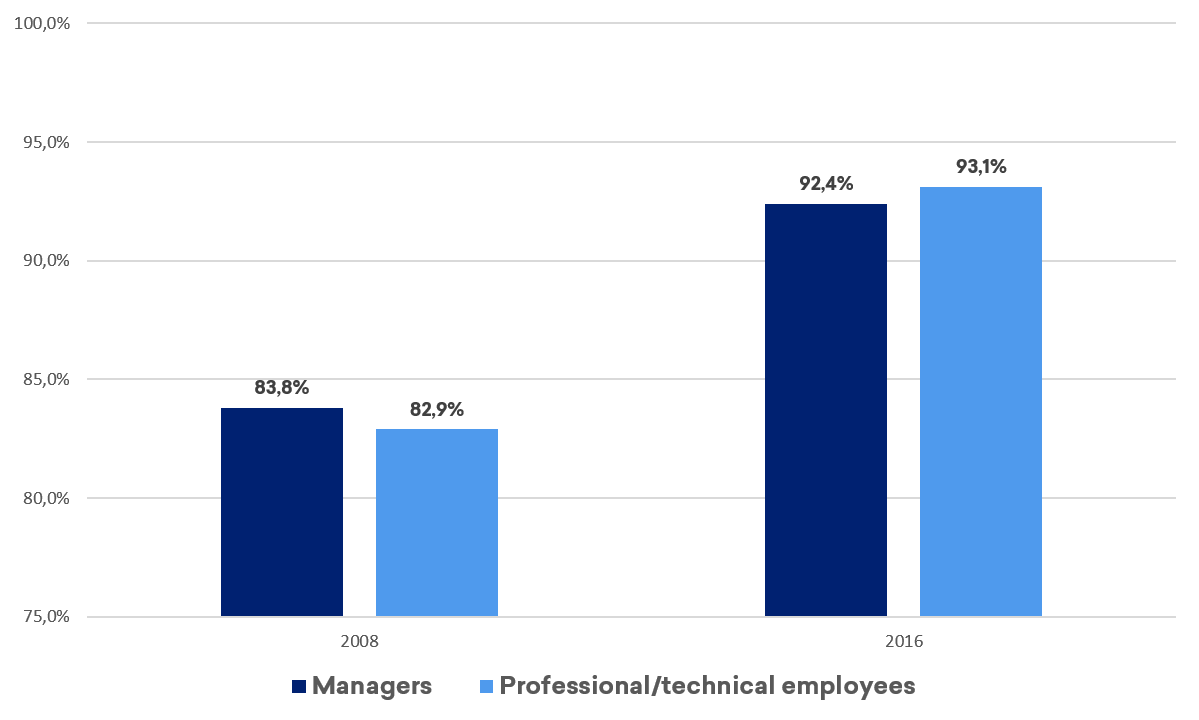 Remuneration based on individual performance
The survey shows there is a shift from a central salary policy to a more variable and personal approach to remuneration based on performance.
70.8% of the companies use this system for management positions.
61.3% of the companies also use this system for blue and white collar workers.

Dirk Buyens: "We can see a clear tendency towards further individualisation and personalisation of the remuneration system."
Coaching and mentoring gaining in significance
Compared to 2008, in 2016 coaching and mentoring were clearly used more frequently to promote the growth and development of staff.
We see an increase from 50.7% to 55.5% for coaching.
With mentoring, we see an even greater increase; from 38.4% to 55.6%.
Recruitment via job advertisements on a downward trend
The top 3 recruitment methods are:
Internal recruitment
Online vacancies on the company website
Distribution of vacancies through the current employees' personal networks.

To attract new talent the surveyed HR managers clearly no longer prefer more traditional job advertisements in newspapers or magazines.
---