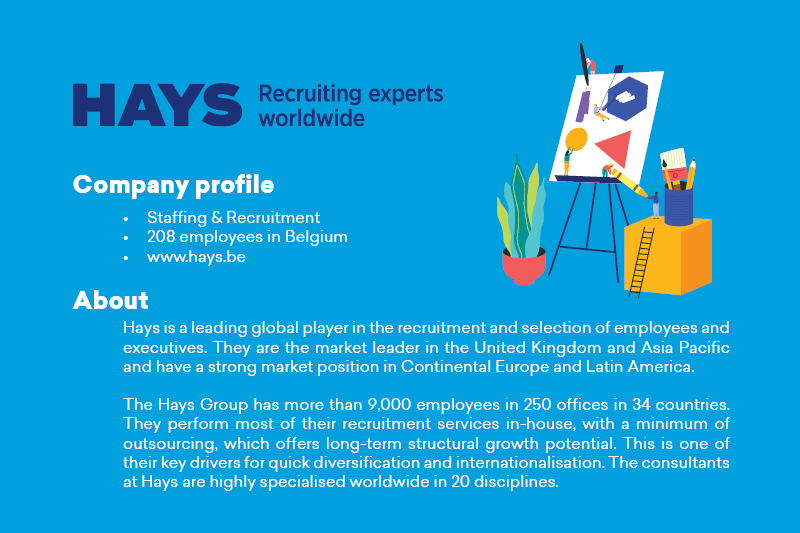 HAYS wants to keep making a difference in the competitive recruitment landscape. That is one of the main reasons they participate in the Great Place to Work® study. Employer branding is a key element in communicating their people-oriented culture. Managing Director Robby Vanuxem explains: "It's not just about attracting talent, but also about retaining talent. The generation that is now entering the labour market attaches great importance to a healthy work-life balance, without losing career opportunities. I am sure that working decisively on happiness, corporate communication and putting employees first is the recipe for achieving better business results. We all strive together to become a better workplace every year."
Magnifying glass
Hays has been participating in the Great Place to Work® study since 2018 and, in March this year, they obtained the certificate for the second time. Every day, Robby Vanuxem and the management team do everything in their power to be the best possible workplace for their employees. They want the people at Hays to be able to challenge themselves and develop as individuals.
For Hays, the added value of Great Place to Work® is not only the recognition of their efforts, but the study also functions as a magnifying glass on what they do now and what they do not yet do. "It is an underlining of our strengths and our points of improvement". A number of important topics emerged from the gathered input, such as listening more to employees and aiming for a better work-life balance.
Hays immediately started working on these topics. More than ever, they want to offer solidarity and 'purpose' to their employees. Moreover, they launched a new meeting moment – called 'the leading club' – for the regional managers. On top of that, they developed a new health & well-being programme.
Communication strategy
Communication, internally as well as externally, is a key aspect Hays is really good at.
Both top-down and bottom-up transparent communication ensures that everyone is on the same page. In addition to the HR department, Managing Director Robby Vanuxem is an ambassador of the Great Place to Work® project. Among other initiatives, he inspires his employees to participate in this journey via his blog.
Hays communicated to the outside world when they were at the Great Place to Work® award show, going live on Facebook while eagerly awaiting the results. When the good news was announced that Hays was officially Great Place to Work®-certified, the external communication was launched in two waves.
In the first wave, the day after the announcement, 200 employees changed their LinkedIn banner at the same time. This banner contained the Great Place to Work® logo and the slogan 'With great people comes a great place to work'. It was important for Hays that everyone said the same thing, with the same templates and visuals. This included the classic press release, website pages, and logos on social media.
As a second wave, they communicated with YouTube videos, created by Hays, in which they explain the importance of the Great Place to Work® project and why their employees feel so positively about their workplace.
Hays links their employer brand to their people brand and talks about their 4 values: being passionate about people and being experts, ambitious and inquisitive. By talking about training, about the importance of learning and growing as a person, Hays conveys what their workplace is all about to the outside world. Did you know that LinkedIn celebrated Hays for having the best company page? The reason: the number of tips & tricks for all types of people!
So, what does Hays get in return?
Although it is difficult to express in numbers, Davy Ghysels, Hays' Marketing Director, notices a lot of positive effects from the GPTW certification. Foremost, internal pride went up. People are more than happy to go to job fairs and talk about their great workplace! In turn, applicants show more interest when they see the Great Place to Work® logo.
In addition to this, Hays notices more traffic on Google and more feedback and engagement on social media posts. Finally, during interviews, applicants often refer to the Great Place to Work® label and ask questions about how this impacts daily life at Hays. Again, a clear indication of the impact of being a great workplace!
Interested in getting started @ Hays?
Hays is a people business with cheerful, dynamic employees. Diversity is very important – they believe that everyone has his or her own strengths. They do not focus on a specific type of candidate or position when recruiting: depending on the candidate and his/her preferences, the division that best suits the person is recommended. Nice to know: the Hays Academy takes place in July and September. During these 3 days, new employees are prepared to work at Hays.
---