"Innovation comes ultimately from a diversity of perspectives. So when you combine ideas from different industries or different cultures, that's when you have the best sense of developing ground-breaking ideas."- Frans Johansson

An inclusive approach is core to an innovative and sustainable workplace. This is what we call "Innovation By All™", when leaders nurture the intelligence, skills, and passion of everyone in the organisation. Everybody creates, everybody is connected, and everybody contributes. In our research of the 100 Best Companies to Work For®, we found some common practices that cultivate this inclusive, innovative environment.
6 Ways leaders can create a culture of innovation.
1. Give all types of space
Leading companies make space for more than work. They create mental, emotional and temporal space. Space for employees to be creative, take risks and come up with ideas that advance the organisation.
2. Create energy by thanking all
Recognizing everyone for their efforts, not just the outcomes, doesn't dilute the idea. Instead, it acts as a fertilizer. It energizes individuals and the entire organisation. And encourages people to keep contributing. The enthusiasm around trying to make things better is infectious and fun. And that is itself a catalyst for creativity.
3. Nurture diverse connections
Leading organisations build bridges, bringing people together who otherwise might never talk to each other, let alone collaborate.
4. Invest in everyone's growth
Lavishing resources only on employees who show 'high potential' is misguided. It ignores the potential of others and can have unintended consequences. It often leads to feelings of frustration and favouritism.
The best leaders see the value of maximizing all human potential and help every employee develop.
5. Make it easy for all
Leading organisations know to leave no stone unturned. It's not enough to put out a suggestion box. They make it simple for their people to generate ideas - and lots of them.
These companies go further by providing guidance for fleshing out a new concept. They adopt systems that allow peers to comment on and get behind promising proposals
6. Inspire all with purpose
Our research shows that when employees use the term "incredible" to describe their workplace—such as "incredibly hardworking environment" or "incredible company journey"—they are 81% more likely to experience meaningful innovation opportunities.
At most organisations, inspiration and purpose drop as you move down management levels. The best leaders find ways to motivate people at every layer. From those in the C-suite to employees toiling in the basement boiler room.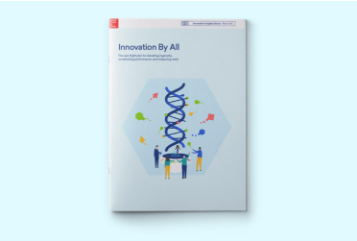 Download the full report, and find out:
the information you need to create a change-ready organisation.
best practices from some of the most innovative companies in the world so you can learn from their success.
how to calculate and benchmark your Innovation Velocity Ratio so you can understand your starting point and measure your performance.
Do you also want to build a strong high-trust and innovative culture, for All?! Be sure to find out more about our way of working and the ways we can support you in your journey towards an even better workplace!
---