Once again, the Great Place to Work® Institute Belgium has announced the 20 Best Workplaces™ in Belgium. Alongside this ranking, 25 organisations have also received a Great Place to Work® certificate in recognition of their status as good employers.
Results are predominately based on the opinion of employees at the firms in question. This annual study is carried out by the Great Place to Work® Institute Belgium in conjunction with Vlerick Business School and media partner Jobat.
Fantastic workplaces are characterised by a high degree of trust, pride and camaraderie. What makes the Great Place to Work® Institute's approach unique is that evaluation by employees takes precedence. Companies are examined through two lenses: an employee questionnaire explores how staff experience trust, pride and collegiality in their company; and an HR questionnaire evaluates the organisation's human resources policy. Two thirds of the final score is determined by the results from the firm's employees.
Best Workplaces™ 2020 Belgium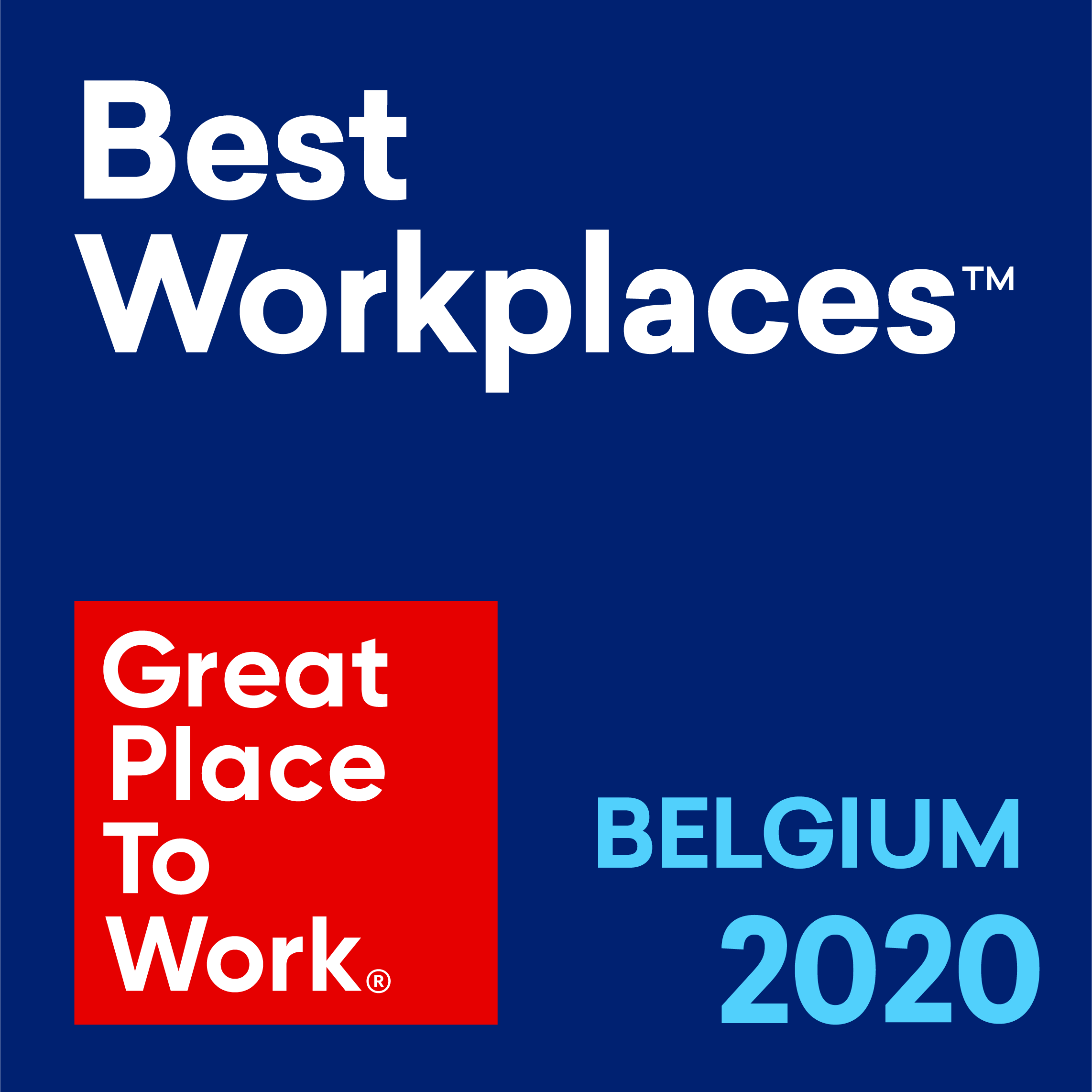 A number of organisations that have taken part in the Great Place to Work® study in previous years have decided to focus on other priorities this year, and this has led to some shifts in the rankings.
Amongst the organisations with fewer than 500 employees, EASI tops the list for the sixth time in a row. Underpinning EASI's unique company culture are its share ownership, meritocracy and values (respect, responsibility, positive attitude and commitment). EASI's achievement is even more impressive in light of the fact that two new CEOs took over the management of the company in 2019.
The number two, knowledge organisation AE, can also take pride in having been one of the Best Workplaces for the past 10 years. At this business and ICT consultancy, employees are regarded as the key stakeholders in creating sustainable value. AE focuses on a steadily growing autonomy based on self-knowledge, self-awareness and self-determination.
The software and service company Protime, which offers solutions for time recording planning, access and online collaboration, rounds off the top three. Almost 300 men and women can now call themselves a 'Protimer'. Here, company culture is a strategic goal. Protime strongly believes in developing its employees' talents and ambitions.
Amongst the organisations with more than 500 employees, Start People is the new number one. The second-largest player in the Belgian temping market aims to create a family atmosphere with a hands-on culture. Putting people first, valuing staff and listening to them are all part of Start People's DNA. With every new initiative, the company sounds out employees' opinions, involves them in the implementation, and feeds back in a transparent way afterwards.
McDonald's at number two is no stranger to the list. Thanks to rigorous training, talent management and an official diploma that rewards experience and workplace learning, staff at McDonald's are given ample opportunity to develop. In addition, the family atmosphere and youthful spirit are absolutely vital to this organisation's success.
Finally, at number three we find Bank J.Van Breda & C°, an advisory bank for entrepreneurs, and freelancers and salaried people in the liberal professions. Bank J.Van Breda & C° attaches great importance to co-creation, which means that different employees contribute to the overall output and everyone's input is of equal value. Their core values are: specialised, personal and proactive.
Great Place to Work Certified 2020
Great Place to Work® recognises organisations for being good employers and for their people-oriented workplace culture. Since 2017, in addition to the top 10 Best Workplaces™, a certificate has also been awarded to those organisations that reach a certain minimum level in both surveys.
*In alphabetical order
Special Awards for three outstanding business cases
Collaborative Hiring Award – Mars Belgium
At Mars Belgium, recruitment is not only the responsibility of HR, but is also a shared process for the whole organisation. The five principles (quality, responsibility, mutuality, efficiency and freedom) are its compass, and serve as a guide when making the right choices.
Connective Leadership Award - EASI
This organisation achieves exceptionally high scores on factors such as 'the management involves staff in decisions' and 'the management values extra effort'. Giving people a high degree of freedom and responsibility and simultaneously asking them for a large amount of input is part of EASI's DNA. The management model is a combination of a top-down and a bottom-up approach.
Well-being Award - Bank J.Van Breda & C°
A culture that focuses on employees' wellbeing is no longer a 'nice to have', but a 'must-have'. Bank J.Van Breda & C° has fully understood this, and with YOU-TIME has launched a tool for supporting dialogue between managers and staff. YOU-TIME is focused on the future and starts out from employees' strengths. It allows a wide range of themes to be looked at, including health, talents and engagement.
If you would like our support surveying your employees, please hit this link.
---